BRC Fence is a mesh fence system that has a roll top to enhance the safety and rigidity of ence system. The roll top mesh fence system is most friendly system for install workers due to there are no any burrs or sharp, raw edges in the whole sheet of mesh fence.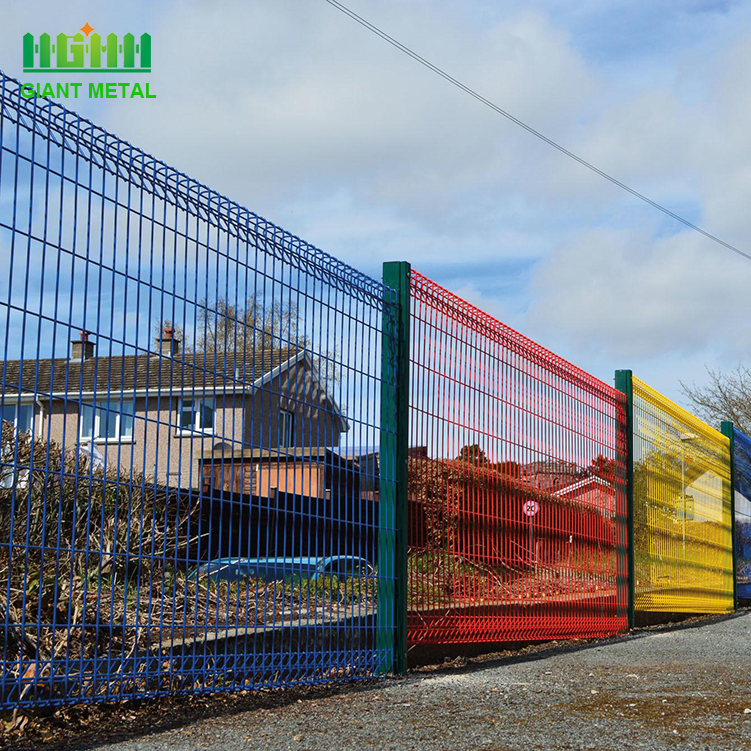 BRC Fence has attractive appearance, various colors, it not only has the fencing function but also has the beautify and safety effect.
Wire Dia.

Mesh Size

Length

Height

Round Post Size

Common Color

4.0mm

5.0mm

6.0mm

50*100mm

50*150mm

50*200mm

75*200mm

100*200mm

100*300mm

2000mm

2200mm

2500mm

3000mm

1030mm

48*1.5/2.0mm

60*1.5/2.0mm

Green RAL6005

1230mm

Black RAL9005

1530mm

White RAL9010

1830mm

Grey RAL7030

2030mm

Red RAL3020

2230mm

Yellow RAL1023

2430mm

Blue RAL5017
Material
1>iron wire (no zinc)
2>electro galvanized wire (zinc thickness: 10-20g/m2)
3>hot dipped galvanized wire (zinc thickness: 30-40g/m2)
4>heavy hot dipped galvanized wire (zinc thickness: 200g/m2)
5>Powder spray coated (thickness 0.1mm)
6>PVC/PE dipped coating (thickness 0.8-1.2mm)
Surface Treatment
1>hot dip galvanized after welded (zinc thickness: 280-500g/m2)
2>Electric galvanized then PVC coated
3>Electric galvanized then powder coating
Advantages
1>With the characteristics of high strength, good rigidity, beautiful appearance, a broad field of vision, easy installation, bright feeling, light and practical.
2>It is very compact connecting the mesh with the posts is very compact, whole feels good.
3>Fluctuate of circle so that the net surface strength increased significantly.